Cryptocurrencies, including Bitcoin, have surged in popularity on the internet in the past five years. This trend has led to the emergence of several ad networking platforms that now facilitate payments through crypto.
Coinzilla stands out as one of the modern ad networks that exclusively compensates publishers with Bitcoins. It offers a comprehensive solution for both advertisers and publishers, catering to their diverse needs. With a wide range of ad formats, Coinzilla ensures seamless responsiveness across mobile and desktop traffic. Thus, regardless of the type of traffic you possess, this network presents an effortless opportunity to monetize it effectively.
We have prepared an in-depth post providing valuable insights into this exceptional ad networking platform. You will find all the essential information you need, including the numerous advantages it brings to both advertisers and publishers.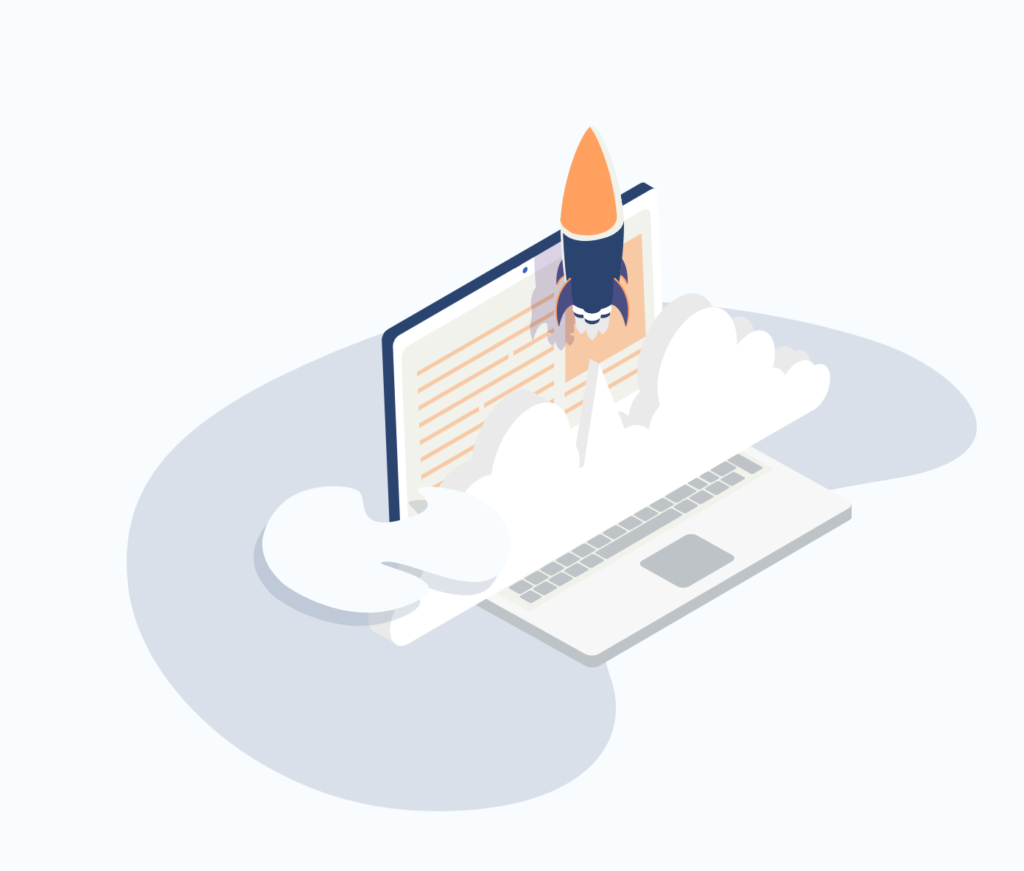 Coinzilla Review 2023: Is It Worth Try??
About Coinzilla
Coinzilla is an esteemed digital advertising network, renowned for its expertise in the crypto and Bitcoin advertising realm. Collaborating with websites and projects associated with cryptocurrencies, this network has established itself as a prominent player. Headquartered in Romania, Coinzilla empowers advertisers to optimize their advertising campaigns through the provision of standard IAB banners and native banners.
What sets Coinzilla apart is its inclusive approach towards website acceptance, barring those that fail to comply with their terms, including adult content websites. The network's community guidelines for publishers are straightforward, and their requirements are not overly demanding. Consequently, publishers with high-quality websites can effortlessly join this network without unnecessary complications.
Benefits for Advertisers
Coinzilla stands out as one of the rare ad networks that provides payments in bitcoins, making it a highly coveted platform for advertisers. By choosing to partner with Coinzilla, advertisers unlock a host of exceptional advantages:
Quality Traffic: Coinzilla ensures that advertisers receive top-notch, high-quality traffic for their campaigns, maximizing the effectiveness of their advertising efforts.
Stringent Publisher Approval Criteria: The network maintains strict approval standards for publishers, guaranteeing that only reputable and reliable websites are accepted into the platform.
Low Minimum Deposit: Advertisers can kickstart their campaigns with a minimum deposit of just 50€, making it accessible for businesses of varying sizes and budgets.
Anti-Fraud System: Coinzilla has implemented a robust anti-fraud system, providing advertisers with peace of mind and protecting their investment from fraudulent activities.
Sub IDs for Advertisers: To enhance tracking and optimization, Coinzilla offers sub IDs for all advertisers, enabling them to gain valuable insights and tailor their campaigns accordingly.
Fast Campaign Approval: Time is of the essence, and Coinzilla recognizes that. Advertisers benefit from swift campaign approvals, with most campaigns being approved within hours, ensuring a quick start to their promotional activities.
Advanced Campaign Features: Coinzilla empowers advertisers with a range of advanced campaign features, including budget capping, advanced campaign creation, optimization tools, and native ad formats, enabling them to customize and optimize their campaigns for maximum impact.
Flexible Payment Methods: Coinzilla supports a variety of payment methods, including SEPA, SWIFT, BTC, ETH, and bank transfers, ensuring convenience and flexibility for advertisers when it comes to settling payments.
By leveraging Coinzilla's unique offerings, advertisers can unlock unparalleled opportunities to maximize their advertising campaigns and achieve optimal results.
Ad formats for Publishers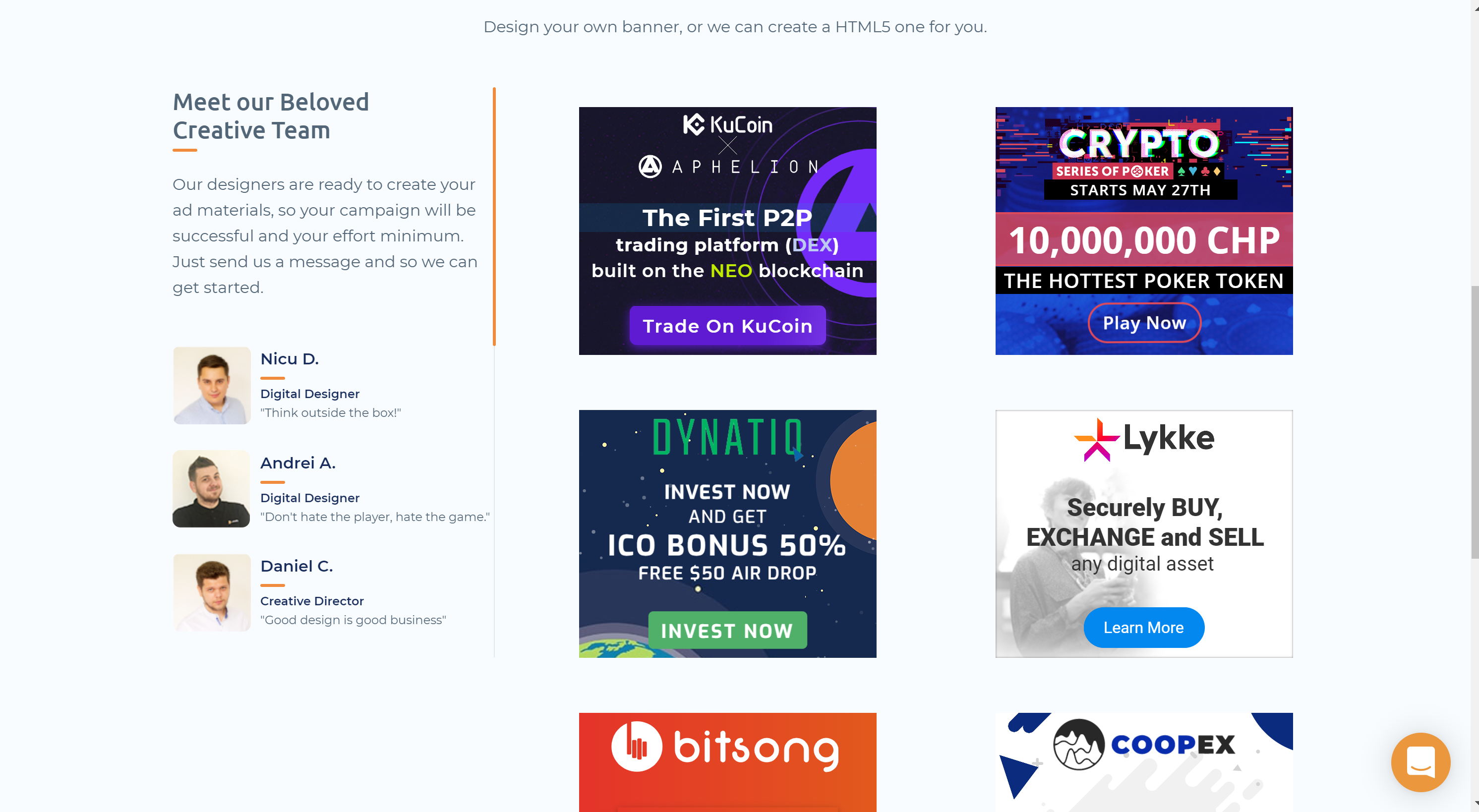 Coinzilla presents an enticing opportunity for publishers to diversify their monetization strategies by offering a range of captivating ad formats. Publishers who join Coinzilla can explore and leverage the following five ad formats to optimize their website earnings:
Classic Banner: The classic banner format serves as an effortless means to capture your audience's attention. These banners are prominently displayed on the user's screen, featuring HTML5 posters that yield exceptional campaign results.
Native Ads: Native ads seamlessly blend into the blog's design, creating a harmonious user experience. Publishers can utilize Coinzilla's public API to customize the ad format according to their website's aesthetics. For reliable and robust native ads marketplace, advertisers and publishers can also explore MGID, an industry-leading platform. Check out our detailed MGID review for more insights.
Pop-under: The pop-under format discreetly launches a separate window behind the active user interface, revealing the advertiser's landing page. This ad format is commonly used for Single Opt-In offers, ensuring optimal engagement and conversions.
Header Banner: Header banners strategically position themselves at the top of the website, akin to sticky flags. This placement guarantees heightened visibility, effectively capturing visitors' attention and driving engagement.
Sticky Banner: The sticky banner format remains fixed at the bottom of the webpage and only reveals itself when visitors navigate through the website. This persistent presence ensures maximum exposure and creates valuable opportunities for increased user interaction.
By embracing these diverse ad formats offered by Coinzilla, publishers can unlock the potential to monetize their websites more effectively, ultimately maximizing their revenue streams.
Pricing Models
Coinzilla operates on a working model based on CPM (Cost Per Thousand Impressions) and CPC (Cost Per Click), specifically for native ads. Recently, they have introduced a self-service ad network, offering advertisers and publishers the freedom to utilize it according to their preferences. With a focus on delivering tailored marketing strategies, Coinzilla provides different options to publishers based on their website's performance and content. Publishers can access real-time statistics, which are updated every five minutes, and enjoy daily payments for their earnings.
The sales structure employed by Coinzilla encompasses both CPM and CPC, ensuring that publishers receive compensation for impressions as well as clicks. This global ad network opens doors for publishers worldwide to effectively monetize their traffic. Coinzilla prides itself on offering competitive fill rates, guaranteeing that none of your valuable traffic goes unsold.
Any Pre-requisites?
Coinzilla has set reasonable requirements for publishers looking to join their network, ensuring that even websites with average traffic can apply. Here are the key criteria that publishers need to meet:
Alexa Traffic Rating: Your blog should have an Alexa traffic rating of less than 1 million. Achieving an Alexa score below 1 million is attainable for most websites with median traffic. In case you're facing difficulties in improving your Alexa rank, you can refer to our informative post for guidance.
Website Age: Your website must have a minimum age of 3 months. Coinzilla does not accept websites that are less than 3 months old. However, this requirement is not excessively burdensome, as typically websites begin to receive consistent traffic after 3-4 months of establishment.
Professional Appearance and Quality Content: Your website should exhibit a professional appearance and offer valuable content. Having an appealing and user-friendly mobile layout will be considered a plus point during the evaluation process.
By meeting these reasonable requirements, publishers can enhance their chances of joining the Coinzilla network and unlocking the monetization potential of their websites.
Any Restrictions?
While Coinzilla offers great opportunities, it is essential to be aware of certain restrictions that are in line with standard practices observed by various ad networks. To maintain a high standard of integrity and compliance, your website MUST NOT:
Be involved in illegal activities.
Feature content promoting child pornography, hate speech, violence, obscene or vulgar language, physical harm, deceptive investment advice, or similar objectionable materials.
Be categorized as an adult content website.
Engage in the delivery of spam or bot-generated traffic.
It is advisable to review Coinzilla's terms of service page for more detailed information regarding their specific restrictions. By adhering to these guidelines, you can ensure a mutually beneficial and ethical partnership with the Coinzilla network.
Joining COINZILLA!
Coinzilla offers publishers a seamless and hassle-free sign-up and acceptance process, following the trend of contemporary ad networks. Registering for this network is a straightforward procedure that involves logging in and completing a simple registration form. Once registered, you can immediately access your account.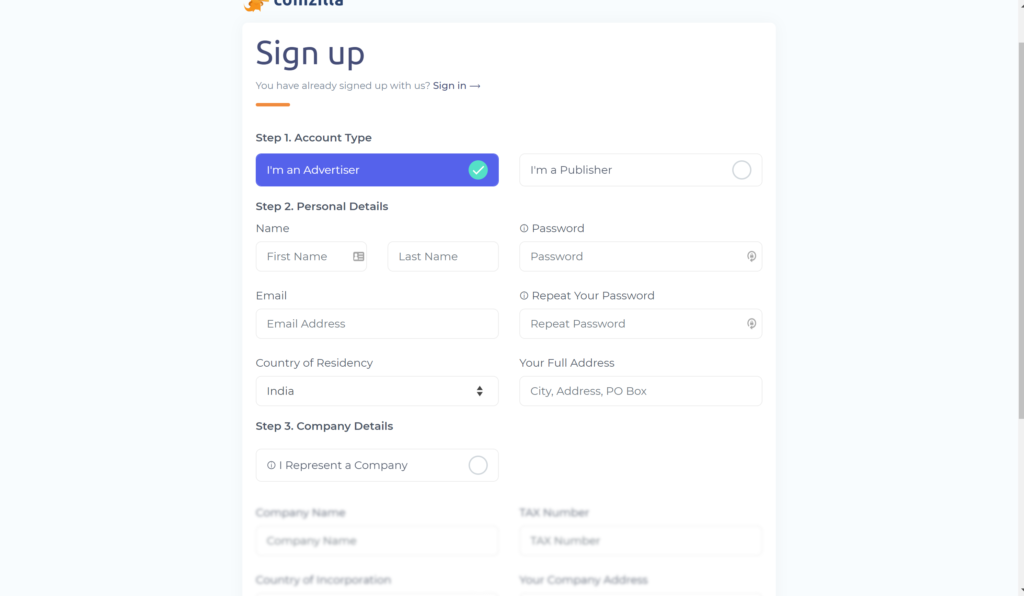 Before you can start earning revenue from this network, there are two essential tasks to be completed within your account:
Email Verification: It is crucial to verify your email address. To do this, you will find an email verification button within your dashboard. Simply click on the verification link provided in the email to confirm your email address. This step ensures the full activation of your account.
By following these easy steps, publishers can swiftly join Coinzilla and take advantage of the monetization opportunities it offers.
Getting Approved by COINZILLA!
To ensure authorization and eligibility for displaying advertisements on your website, you are required to go through a verification process with Coinzilla, similar to most other ad networks.
When submitting your website for approval, you must verify ownership. This can be done by either uploading a provided text file to the root directory of your website or inserting a supplied meta tag just before the closing head tag of your website.
Coinzilla promptly reviews all pages submitted by publishers. Typically, the review process is completed within 24 hours of submitting your website for authorization.
By following these steps and successfully completing the website verification process, you can gain authorization to display Coinzilla's advertisements on your website. This ensures a seamless integration and opens up opportunities to monetize your platform effectively.
Explore and learn more with Coinzilla Academy!
In addition to an exceptionally responsive and highly efficient customer support team, Coinzilla takes pride in offering a cutting-edge knowledge base. This comprehensive resource encompasses a collection of meticulously curated articles, tutorials, and guides, catering to users seeking assistance with various aspects of cryptocurrency-based ad networking and more.
Welcome to the Coinzilla Academy, your ultimate destination for crypto knowledge. Here, you can explore in-depth articles covering advertising strategies, website design tips, and general insights into blockchain technology. Gain a competitive edge over your rivals as you delve into the wealth of information provided by the Academy.
Coinzilla consistently updates its database, ensuring that users are equipped with the latest information and trends in the realm of crypto and ad networking. With new articles published on a weekly basis, customers can stay ahead of the curve and remain up to date with the dynamic landscape of the industry.
Leverage the power of Coinzilla's knowledge base and unlock a world of valuable resources to enhance your understanding and proficiency in the realm of cryptocurrency and ad networking.
The Coinzilla Marketplace
Welcome to the Coinzilla Marketplace, your ultimate destination for an all-in-one content marketplace experience. Here, you can conveniently and legally purchase Crypto Press Releases and Sponsored Articles, ensuring widespread visibility for your content across prominent websites in the crypto and finance industry. Our platform empowers you to execute an effective PR strategy, regardless of your budget.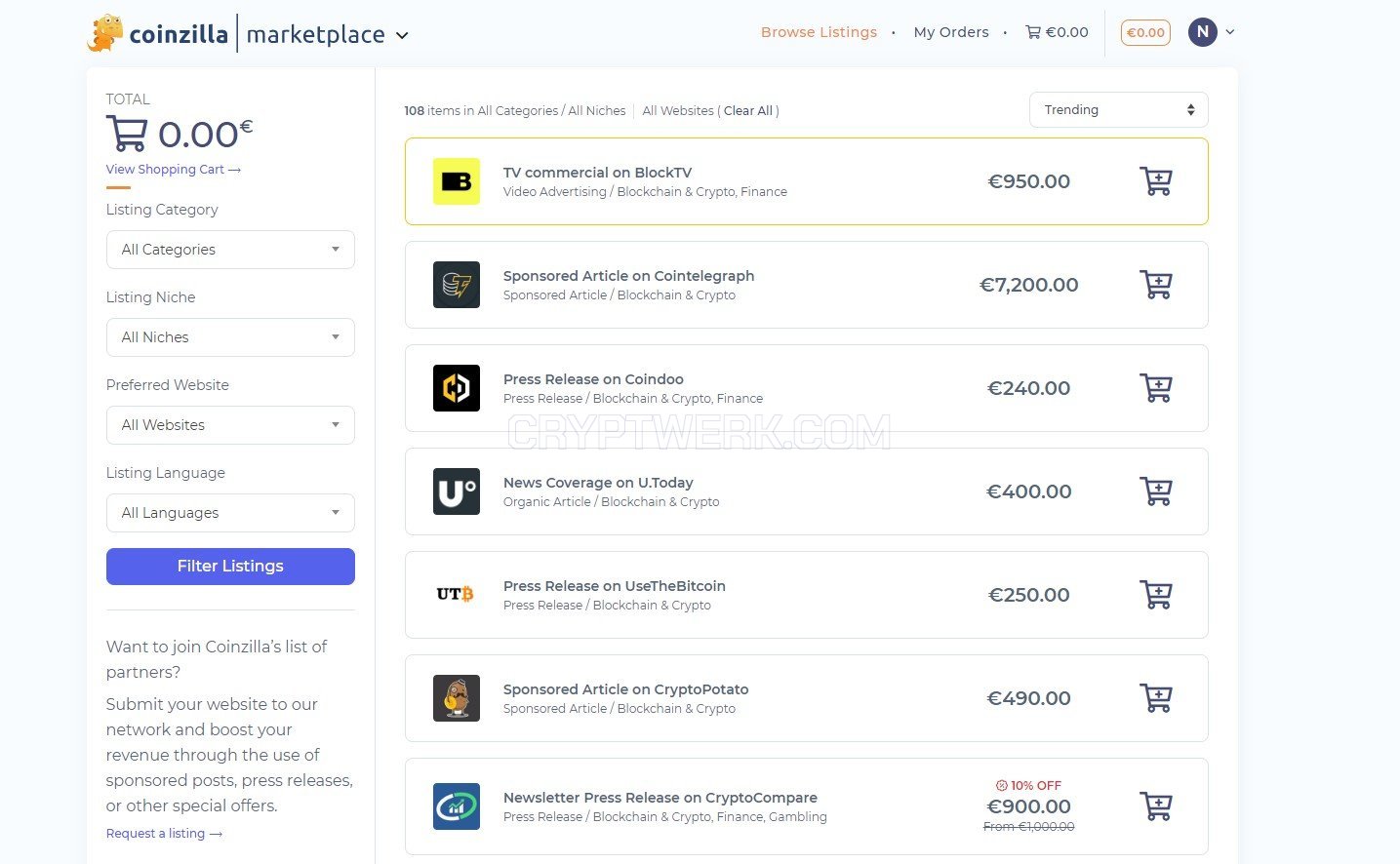 With Coinzilla's extensive network of crypto partners, you can reach your target audience and generate the exposure you need. Our team of professionals is dedicated to crafting unique press releases tailored to your specifications and distributing them to our trusted partner pages in the crypto community.
We understand the importance of transparency and accountability. That's why, as soon as your press release goes live, we provide you with evidence of its distribution, allowing you to track the progress of your campaign. In the rare event that an editor decides not to publish your press release, rest assured that you will receive a full refund without any exceptions.
Simplify your press release management by creating your order, making a one-time deposit, and selecting the desired crypto pages and blogs. Our user-friendly interface saves you time and effort by consolidating all your press releases in one centralized platform.
Stay informed and measure the impact of your press releases with live reports on distribution. Our comprehensive security system ensures the protection of both customers and vendors, eliminating the risk of potential chargebacks.
Experience the Coinzilla Marketplace, where your content finds its ideal platform for maximum reach, reliability, and security. Boost your brand's visibility and engage with your target audience with confidence.
The Final Verdict: Is Coinzilla Worth Your Investment?
When it comes to digital advertising platforms, Coinzilla stands out as an exceptional choice, providing unparalleled value for both advertisers and publishers. With its diverse range of ad formats, Coinzilla ensures optimal responsiveness across both mobile and desktop traffic. This means that regardless of the type of traffic you have, be it mobile or desktop, you can effortlessly monetize it through this network.
Coinzilla's commitment to delivering high-quality ad formats and their compatibility with various devices make it a lucrative option for maximizing your revenue potential. Whether you are an advertiser seeking effective channels to reach your target audience or a publisher looking to monetize your traffic, Coinzilla offers a compelling solution.
In conclusion, considering the impressive features and opportunities provided by Coinzilla, it is undoubtedly a platform worthy of your investment. Take advantage of this exceptional digital advertising network and unlock the full potential of your traffic, be it on mobile or desktop platforms.